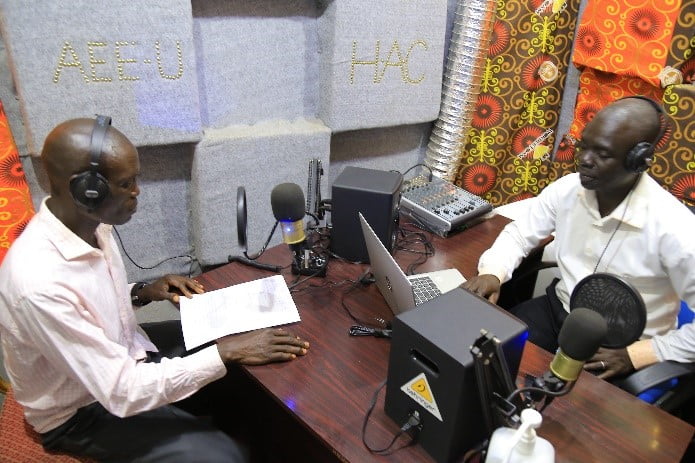 Bringing Hope to the Community
African Evangelistic Enterprise (AEE) Uganda, launched its operation in West Nile region in the year 2015 in Arivu sub-county, Arua District. AEE is currently operational in two districts of West Nile – Arua and Terego districts. In Terego district, AEE has been implementing a pilot project, that will be launched into a full 7-year project this year. The Arivu programme is a Child Centered Community Development Programme whose overall goal is, 'improved quality of life and opportunities for Children and other vulnerable groups in 1,500 households in Arivu Sub County, Arua District by 2023'. The program pursues three major pathways of change to achieve this goal. These pathways are: – 1) Quality education for children. This focuses on interventions that enable realisation of better learning outcomes and performance for children with a major focus on early childhood education, targeting children from 0-6 and children in primary school from 6-16 years.
With the implementation of the Safe Till School Starts (STS) project, AEE West Nile programmes, was able to keep children learning with the use of solar aided radio lessons through the two-year schools lockdown by the Government of Uganda, due to Covid-19. These STS learning centers were carried out with consent from the district and community leaders. The AEE Arivu office, set up a recording studio at its office, and contracted teachers to record lessons. In total over 6,000 children were kept learning at 90 STS centers in the villages. Even as children return to school this month after two years of no lessons, the children in Arivu have continued to acquire education, and will easily catch up and be promoted to the next classes. One parent testified that their child did not know how to write but with the implementation of the STS project, the child can now read and write.
2) Community participation and empowerment that aims at building community Socio-economic resilience through the Self Help Groups(SHG) approach. Through this approach, communities are engaged in savings and profitable business ventures. Each SHG group is made up of 2—30 members. This has also enabled them to engage in networks and partnerships through the Cluster Level Associations(CLAs) CLAs are a combination of 5-6, SHG groups that come together to harness their combined influence. As a registered group at the CLA level, the groups are being empowered to bid for contracts at the sub-county and local government offices. 3) Sustainable incomes for households. In this pathway, targeted groups are engaged in profitable employment through Agricultural Vocational Education and Training (AVET). In addition, to engagement in profitable incomes, households are also focusing on raising kitchen gardens to improve on nutrition in the homes, especially for children.
Through the above pathways, the project was able to register a number of achievements, among which are:-
Mobilization of the community to start 5 Early Childhood Development Centers (ECD) to address the performance of children in both ECD and primary schools.
Through the Self-help group approach a total of 42 functional groups have been engaged in savings and this has granted them easy access to money, throughinternal group loans. .
A number of youths have been trained in various enterprises, such as Carpentry, tailoring, brick making, bakery etc. this has enabled them to engage in self-employment and increased their income levels as well.
Mary from Abindi testified that she had low self-esteem but is now empowered with the teachings and rotational leadership in the groups. She said after hearing about family meetings in the parenting group, she went back to conduct a family meeting with her children. From this family meeting, her and her children were able to come together to build a house with iron sheets for themselves. AEE's project in Terego has a goal to contribute to healthy and well-nourished child growth and development practices in 1200 households in Terego District by 2027.
A community member from Nicu parish in Terego confessed that, at first, he was very mad at his wife when she started attending parenting sessions, but later he also joined the parenting group because of the positive changes he had observed in his wife. To-date he can testify that there is a visible change in their home.